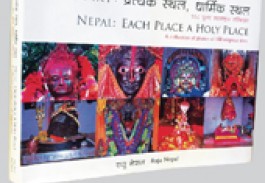 Portfolio Title
Nepal: Every Place a Holy Place Rs. 4,000 per copy. Call 9801020088 for your copy
Portfolio Description
Rs. 4,000 per copy. Call 9801020088 for your copy
NEPAL : EACH PLACE A HOLY PLACE

A Collection of photos of 108 religious sites

Nepal is a country of temples, where it is believed that 330 Million different Gods reside. God of all Gods Shree Pashupatinath is a very popular pilgrim in Nepal. It is a country where Earthy mother Sita was born at Janakpur nagari. Lord Buddha who is a encarnation of Lord Bishnu is also born in the holy land of Lumbini, lord kedar Nath's head Doleshwor mahadev is also in this serene place of Kathmandu Valley.
Be it Gujeshwari and Bageshwari as mentioned in Sosthani mythology or the mention of Himalayas in Mahabharata, it all belongs to Nepal and is our inheritance. This is also a place where Kaligandaki river flows, the only one in the world where Bhagwan Bishnu is found in the form of Shaligram a holy stome. Those Shaligrams are worshipped in Millions of Hindu household. All those temples, holy places, rivers and serene religious place where sages and saints meditate and got enlightenment are all mentioned in Hindu Mythology and holy books and there are several hearsays that are also widely believed.
It is not possible for one family man in his life time to visit all the pilgrims in Nepal. In spite of that I could remove time from my busy schedule to bow at most of the temples and tried to optimize by beholding those and holy places in my camera. By the grace of God I got to travel to almost all districts without having any plans, but only some of those pictures / images are printed in this book. My interest in photography led to those images being imprinted in the form of photo book. I could not find any one creation where all important religious places and their beliefs were written. This photo book contains more of photos and less of description thus unable to write all the information I could gather from different sources. Therefore all those temples and places I have visited which have historical value, I have tried to put in briefly and to the point.
Nepal is a country of hills and mountains; it is not easy to move around conveniently. Likewise most of the pilgrims are extremely difficult to reach and time consuming as well. To add to it our holy places are generally always crowded, hence I had to try few times to capture the temples and the idols pictures. In several temples we are not allowed to take pictures of inside, in those I have only got an exterior image (temples and not idols) in this book. To show the importance of the surroundings of the temples I have included them as well.
Amongst the uncountable pilgrims and holy places in the country I have included only those pictures and images that I have visited and photographed. In future once I visit the remaining places it will come out in a book form again.
I had unique experiences in my journey to photographing. In some temples I was looked at with doubts and in some others was warmly welcomed I went through some really appreciative experiences and some others not so pleasant. This book is a compilation of all of those memories. In most temples I was asked the purpose of taking pictures. Publishing this book was not my idea initially. I had some kind of inclination to take pictures in the holy places that I visited and gradually developed an interest to capture those images. In the process I began to visit those temples during the time that would not be very crowded. Every God has their day, so I began to visit Shiva temple on Sunday, Ganesh temple on Monday. The main reason behind doing this is to be able to capture the best images I can for the idols inside the temples.
I would have a inimitable feeling when a friend would see me take pictures and tease me. Sometimes when sharing about my interest amongst friends their negative feedback did get me startled too.
In Hindu culture Dura Devi, Ganesh and Bhairav temples permit animal sacrifice which is passing down the generations. Gadi mai situated at Bara district is the biggest temple in the world which has maximum sacrifice is made in world. In some temples government has to arrange for those animal sacrifices which have been in practice for long years in history. The images of animal sacrificed in this book are taken as was seen and no harm has been made to any animals for the purpose of photography by me.
I got both constructive and negative comments of friends' up to a point of getting this book published. Some raised a question about the gravity, need and importance of this book and some other even encouraged and the rest said I got an expensive hobby and tried to demotivate me. All those mixed reactions too acted as a boaster for me to work hard.
The remarks and comments within and outside country that I got after putting my pictures in the social networking sites and their love and gratitude expressed in my idea of coming out of a book and different journalists printing in Newspapers interview gave me a positive energy.
In the process of gathering pictures and planning to come out of a book, it was very difficult to gather information. For some temple, there is nothing above its existence and history in a written form. Even the hearsay is not consistent. Despite I have tried gathering the maximum of it.
I am not an inventor or a researcher in this field. I have only made a print of my experiences of my journey of the holy place. I have tried to establish the available facts; however there can be many mistakes and weaknesses. I hope those mistakes and weaknesses will be pointed out so that I can improve. This will be the ultimate love towards me and my efforts.